Spärkel Beverage System
Designed for sparkling beverage fans, Spärkel allows you to easily sparkle and infuse the delicious tastes of real ingredients – into any drink – with no CO2 tank.
Comes with 1 Spärkel Reusable Bottle & 10 Spärkel Carbonators
Regular price
$149.99 USD
Regular price
$149.99 USD
Sale price
$149.99 USD
Unit price
per
Sale
Sold out
extended holiday returns

For item(s) that are returnable according to our standard return policy and purchased between November 1st and December 31, 2023 we'll gladly give you a refund or exchange until January 10, 2024, or according to the standard return policy of the item, whichever is longer.
free shipping

free standard shipping within the continental United States and Canada.
30 day guarantee

we offer a 30 day money-back guarantee on all systems purchased on sparkel.com
amazing customer service

need help getting started? bubble trouble? have a questions about your order? our bubbly experts are here to help!
important info

Only Spärkel Carbonators can be used with Spärkel Systems. Using unapproved carbonator material will result in system deterioration and void the warranty.

Never use essential oils in your Spärkel.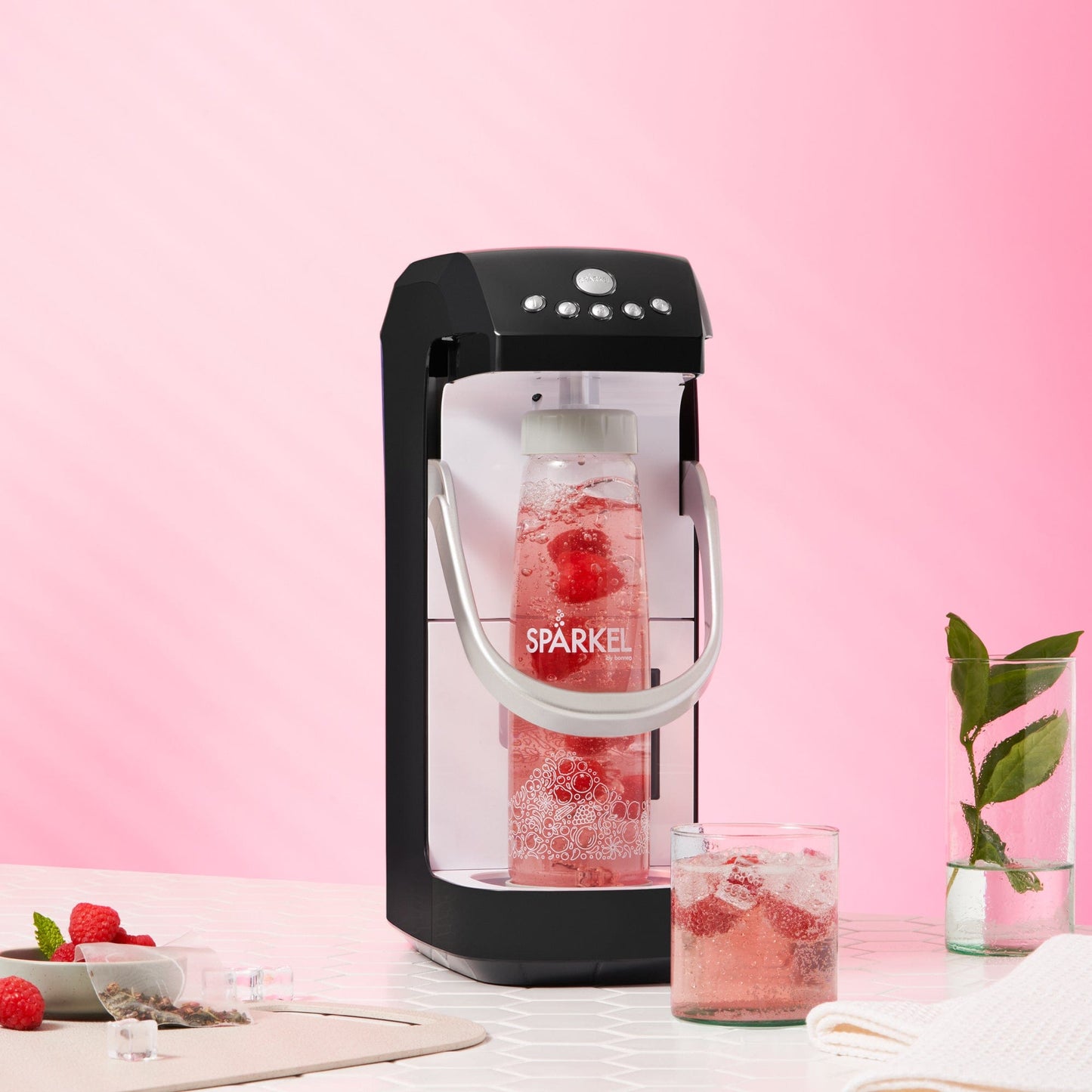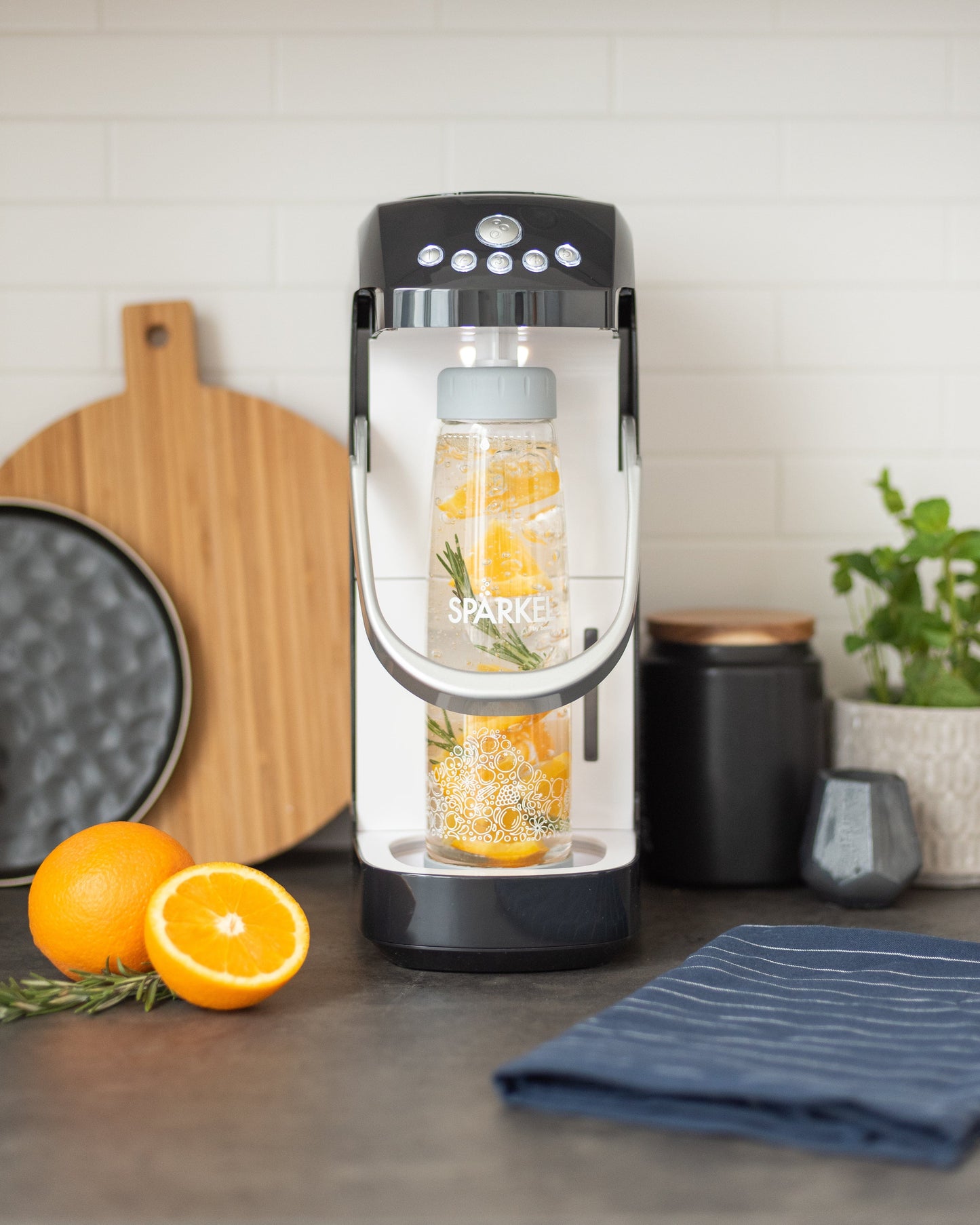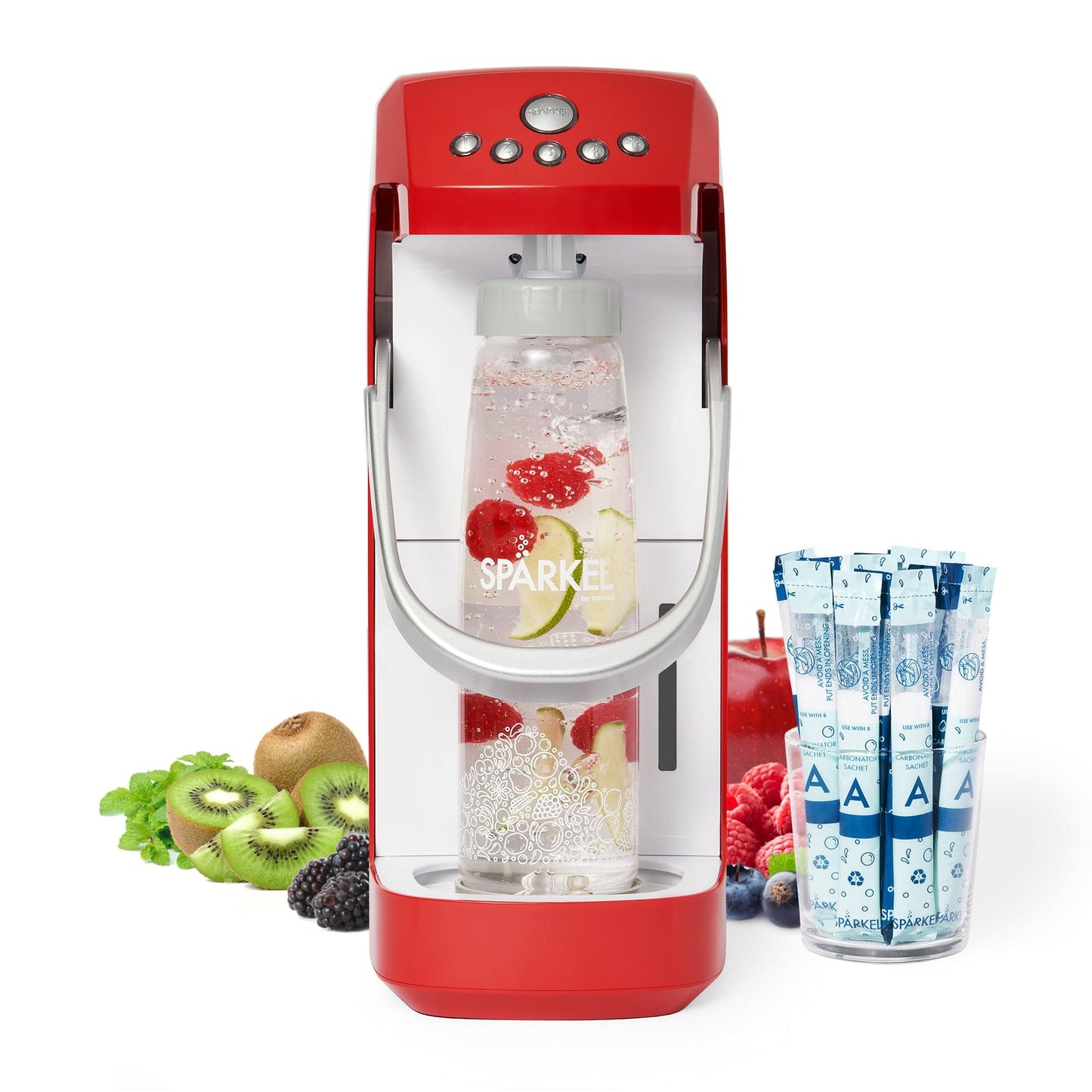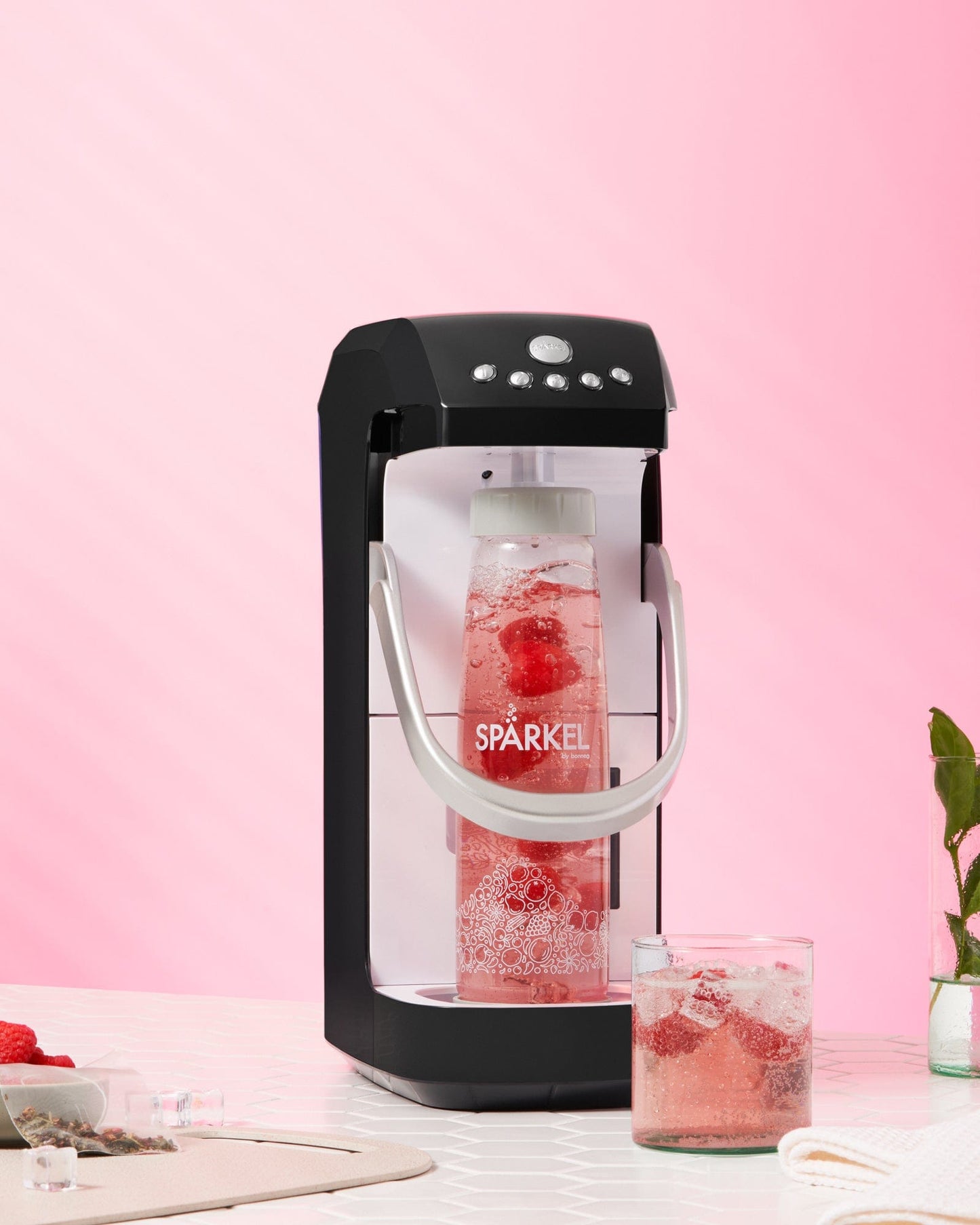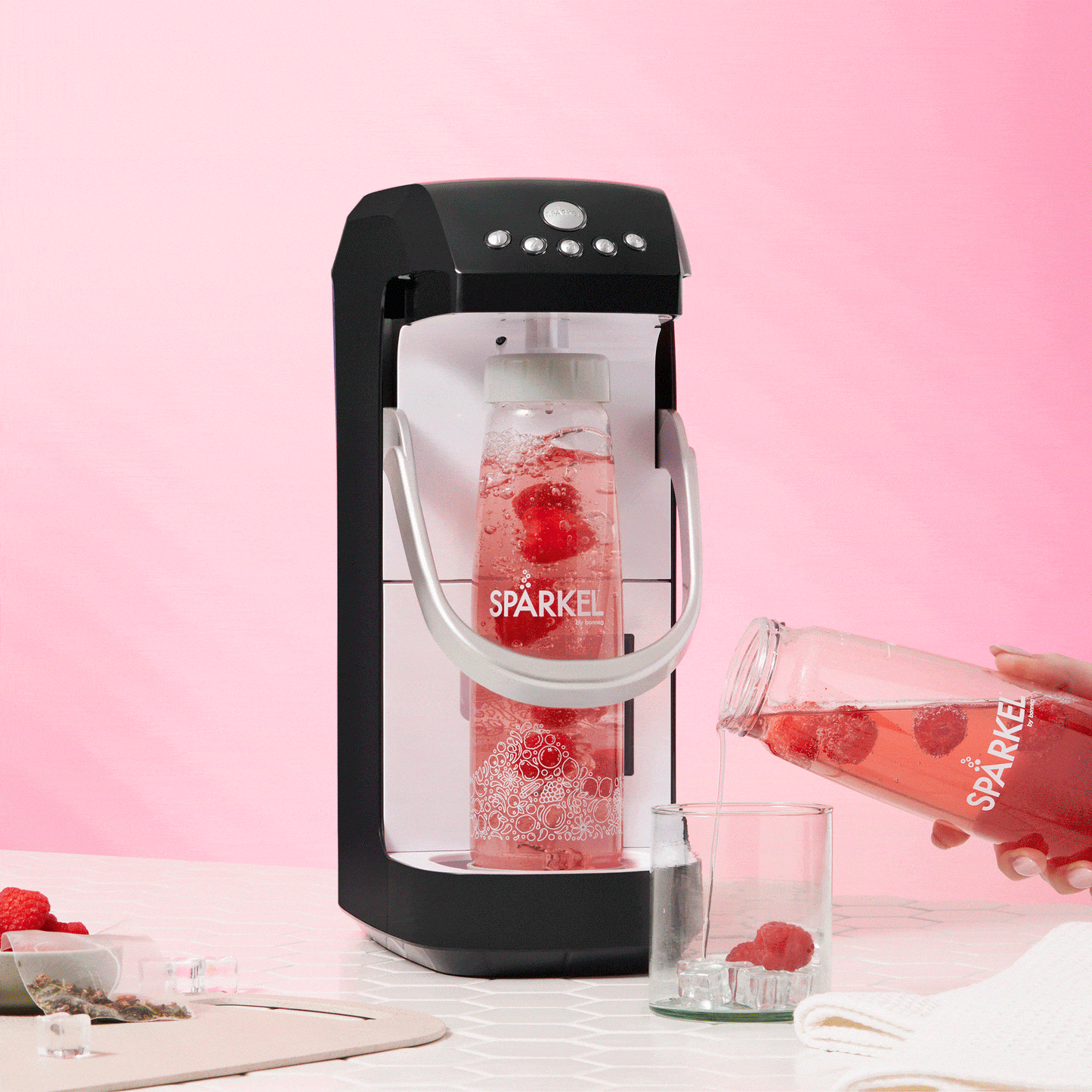 no CO2 tank

1000+ 5-star reviews

easy for you and the planet

bubbles in 90 seconds
make tasty drinks
the ingredients you want with the bubbles you crave. enjoy delicious sparkling beverages at home!
choose your ingredients
Fruit, herbs, tea, juice, cocktails, wine - whatever drink you're in the mood for, make it Spärkel! From crisp sparkling water to elaborate fizzy cocktails, control exactly what goes in your bubbly creations.

pro tip: trying to cut back on soda? Drinking sparkling water provides the same sensation as drinking a soda without the added calories, sugar, artificial colours and sweetener for healthier bubbles!
pick a bubbly level
L1: 1 min - A quick & light fizz
L2: 1.5 min - Moderate bubbles. The usual level for most sparkling waters
L3: 2 mins - Bold carbonation with sharp bubbles
L4: 2.5 mins - Stronger & even bubblier infusions
Max Level: 4 mins - The extra fizz needed for denser juices & cocktails
spritz and sip
Press the top cap vent to open the bottle and enjoy your drink! Not only do the bubbles give a nice mouth-feel, but they also enhance the flavor of your ingredients.
Pro Tip: You can make and store your unopened Spärkel Bottles in the fridge for up to a week without losing carbonation. Making bottles ahead of time will help keep you and your family hydrated throughout the week!

carbonators come to you!
Spärkel Carbonators come to you. No cases to carry. No tanks to exchange. Just hassle-free bubbles with the click of a button.
subscribe and save
faq
tech specs

Height: 14.75" /37cm
Width: 5.75" / 15cm
Depth w/handle: 12" /30.5cm
Depth w/o handle 10" /2m
Weight: 9lb - 4.2kg

Electrical: 110V / 120V, Standard North American outlet

Bottle Size: 25.4 fl.oz / 750 ml
Dishwasher Safe Bottles: Yes

Cycle time: 90 sec (Level 1) - 4 min (Level 5)
what's included with the system?

Each system comes with 1 Spärkel Bottle (750ml/25.oz) and 10 Carbonators.
what's the difference between Spärkel and tank based systems?

Spärkel doesn't use CO2 tanks, has 5 bubbly levels to choose from and has the ability to carbonate more than just water!
can I make my own carbonators?

Only Spärkel Carbonators can be used with the Spärkel System. Using unapproved carbonator material will result in system deterioration, safety risks, and void the One Year Warranty.

Spärkel Carbonators may seem basic, but they are more intricate than they look. Each Spärkel Carbonator contains the specific volume and concentration of each ingredient need to generate enough CO2 for one bottle.

Store-bought ingredients will most likely have a different granularity and seep into the system. See why here.
does the carbonator go into my drink?

None of the Carbonator will end up in your drink, only the CO2 it creates.
how many carbonators do I need to make a bottle?

One Carbonator makes one Spärkel Bottle bottle, no matter what level you choose.
what are your return and cancellation policies?

We back our bubbles! If our products do not meet your satisfaction for any reason, we offer a 30 day money-back guarantee on all Spärkel Systems purchased on sparkel.com.

We process orders quickly, but if you need to cancel or change and existing order, email our support team at help@sparkel.com and we will do our best to accommodate before your order ships. We can usually accept such requests within an hour from the time of purchase.
add water to back reservoir

add ingredients to bottle

choose level & press start